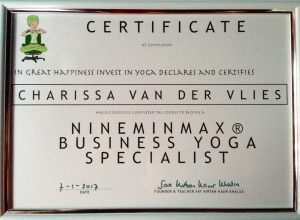 I am a business yoga teacher. With the lessons I share my love for yoga and meditation in an office environment. So far the program proved very successful and valuable for passionate yogis, who are very eager to transform their workplace into a pleasant place to work, where they and their colleagues are good themselves.
I myself work in a business environment and started teaching yoga at my workplace. Because this is succesful and gives me such joy, I am now venturing out. I believe that the world will be a different place if everyone is working with joy, energy, focus and connection to themselves and others.
I am available to give business yoga sessions at your office (in Amsterdam) or via Skype (anywhere in the world).
Sat Nam, Charissa van der Vlies – Certified  business yoga specialist by NineMinMax™ (InvestInYoga)
Yoga for busy business people * Yoga in the business place *  Yoga@work * meditation works
Link To Yoga Videos on my YouTube Channel
ENG: Do you know that 2 out of 3 employees claim to experience stress at work? And that currently 1 out of 10 of the working population is diagnosed with burn out and that in future those figures will rise to 1 out 5? What I do is help people become more agile to handle stress in 9 minutes or less, so they become more happy and healthy and therefore employable on a sustainable basis. I teach in at the workplace in Amsterdam and nearby places on Mondays or Fridays. But I also give sessions via Skype. So I can also work internationally. Please contact me if you are interested in more information.
NL: Weet je dat 2 op 3 werknemers last hebben van stress op het werk? En dat momenteel 1 op de 10 werknemers burn-out als diagnose hebben gekregen en dat dat aantal in de toekomst zal stijgen naar 1 op 5? Wat ik doe is mensen helpen om meer veerkracht te ontwikkelen om beter om te gaan met stress en dat in minder dan 9 minuten. Zo worden ze gelukkiger, gezonder en vooral duurzaam inzetbaar.
Wat zijn de voordelen van mediteren?
Vermindert stress en vermoeidheid.
Verhoogt de creativiteit.
Verbetert sociale vaardigheden en omgang.
Verhoogt concentratie en focus.
Verbetert het vermogen om met complexe situaties en hoge werkdruk om te gaan.
Verbetert de gezondheid van de werknemer.
Ontwikkelt de persoonlijke kracht.
Kortom, meditatie leidt tot gelukkigere, bewustere en gezondere mensen.
Hoe wordt het beste resultaat bereikt?
Het beste resultaat wordt bereikt door regelmatig op een vast tijdstip de meditatie te doen.
Helpt het meditatieprogramma tegen CANS*, burnout en andere stressgerelateerde klachten?
Ja, door meditatie word je bewuster van jouw werk- en lichaamshouding, waardoor de kans op klachten verminderd. De Ontstress meditatie is speciaal gericht om je stress los te laten.
*Cans staat voor Complaints of Arm, Neck and /or Shoulders, voorheen o.a. RSI.
Ben ik na één meditatieprogramma verlost van mijn klachten?
Nee, waarschijnlijk niet. Klachten die jarenlang zijn opgebouwd door bijvoorbeeld een verkeerde werk- of lichaamshouding hebben ook tijd nodig om te verminderen. Echter extra energie en verbeterde prestaties zijn al na enkele sessies merkbaar.
Waar is het?
Ik geef les in Amsterdam en omgeving, op maandag of op vrijdag, op het tijdstip dat jou uitkomt, op de locatie die jou uitkomt. De mooiste momenten uit het leven van een Business Yoga leraar is les mogen geven en de stralende en open gezichten na afloop van een sessie te zien.
Is de meditatie geschikt voor iedereen?
Ja, deze meditatie is geschikt voor iedereen. Iedereen werkt vanuit zijn eigen realiteit. Zolang je in een stoel kan zitten en kan ademen, kun je meedoen.
Moet ik me omkleden voor een meditatie?
Nee, dat hoeft niet. Alleen een ruimte en stoel is nodig (geen matjes)